HEALTHY LIVING
Yesterday an unexpected package was delivered to our house, at first I was wondering how the hell the package was for me because I didn't order stuff from online stores this month. The unexpected package was from
San Marino
and they gave me their Limited Edition Gift Set that contains 2 yellow fin Tuna fillet in olive oil Spanish style and yellow fin Tuna Fillet classic in olive oil. ^__^
San Marino Limited Edition Gift Set
San Marino, the country's number one corned tuna brand, recently launched the premium San Marino Limited Edition Gift Set. Elegantly packaged, this product is the perfect hearty gift for your loved ones. Each gift set contains four cans of San Marino Yellowfin Tuna Fillet in Olive Oil 180g which is rich in Omega-3. Spread the love by sharing prime cuts of Yellowfin tuna fillet, one of the most premium types of tuna, packed in pure olive oil for your family and friends. San Marino Limited Edition Gift Set is available in selected supermarkets for only 320.00 php. per set. Visit
http://sanmarino.com.ph
for the list of supermarkets where you can buy this limited edition gift set.
San Marino cited by Reader's Digest Two Years in a Row
San Marino has solidified its reputation as the most trusted corned tuna brand in the Philippines when it bagged the Gold Award in Reader's Digest Trusted Brands Consumer poll two years in a row (2011 and 2012). The Gold Award bestowed on San Marino represents a "seal of approval, a vote of trust and confidence from consumers," according to Reader's Digest in one of its issue. The criteria employed in the poll include trustworthiness and credibility, quality, value, understanding of customer needs, innovativeness and social responsibility.
Sweet Letter from San Marino ♥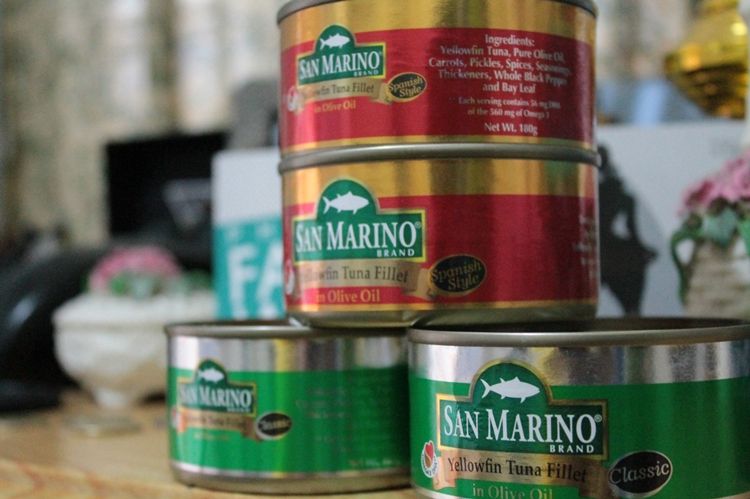 THANK YOU SAN MARINO FOR THIS GIFT SET! ^__^