Gaaaaah time flies so fast and there are only 4 or 5 days till another year or should I say another journey in our lives starts. 2013 has been a great year for me, both in personal and blogging career. There are many things that I should be thankful for this year 2013 and I'm hoping that next year it will be more awesome and more opportunities and blessings to come in my life (will post a full thank you message and the things that happened to me this year 2013 in my year-ender blog post).
For today's outfit, I'm wearing a look fit for guys who are always on the go and can't afford to spend 1 to 2 hours preparing themselves yet still want to look cool and fashionable. This is my
on the go look
, in fact it only took me 6 minutes in putting this whole outfit because the top can be worn two ways; a v-neck sweater and a cardigan "how cool is that?", if you want to make it a little corporate just wear a button down shirt inside and for casual look, I suggest to pair it with a simple tee shirt or tank top. Just make sure to pair your on the go look with a nice and well fitting jeans or pants "
to look polished and sleek"
and lastly top it off with your favorite and
comfy sneakers
, since you're always on the go and always rushing so better wear your most comfortable sneakers.
Top from Penshoppe
So very lucky to scored this top in a lower price from Penshoppe's store, the original price was 1,800 pesos and I only got it for only 800 pesos!, fyi bought this top from Penshoppe last June of 2013.
Dark Red skinny jeans from EGO DENIM JEANS
Envelope clutch bag from Salvatore Mann
My on the go bag and very easy to hold if you don't put many things inside of it hahaha.
Sneakers from Reebok U.K
Comfiest sneakers I've ever worn!. I'm a big fan of Reebok's modern, polished and urbane shoe designs. This is my third pair of sneakers from Reebok.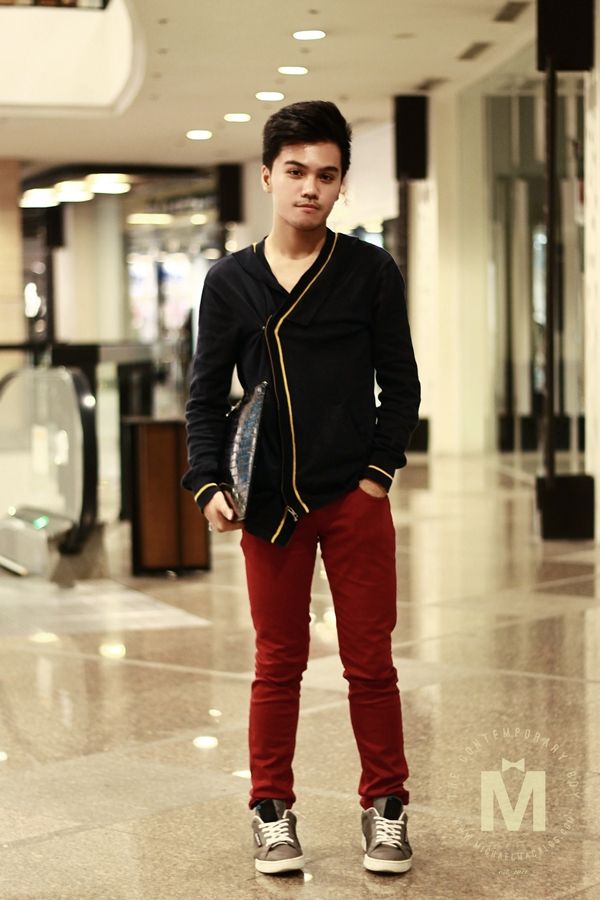 candid shot, LOL