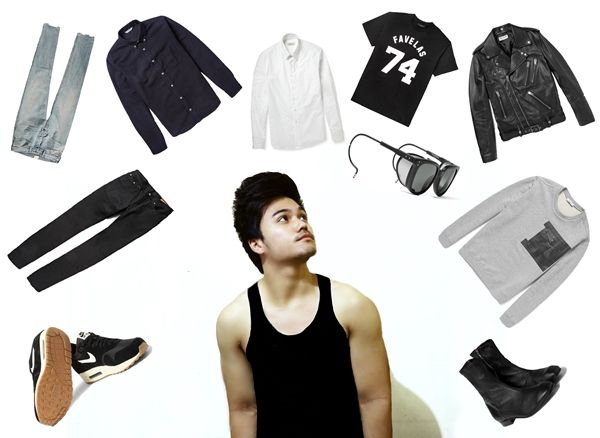 Just got an email from one of my readers, asking what are the most important pieces of clothing in my closet or my wardrobe essentials. When I think of important pieces of clothing in my closet, I think of the basics; just the basics but as I look through my closet, I realized that I only have few basic clothes in my closet, the rest are show stopping, straight from designer's runway inspired pieces. That's the reason why I'm always having a hard time thinking what to wear to a casual occasion, tho I'm now starting to fill my closet with basic pieces.
Moving on, yeah base on the photo above, these are the things that you'll probably see in my closet (even the shoes haha). These are my kind of basic pieces, because every piece is very easy to mix and match with the other piece. Just like that gray sweatshirt with leather patch details, you can pair that with a black pants or your comfy/casual blue jeans.
1. Every guy's best friend: Jeans
(black and blue)
I own a lot of this! especially the black jeans. If you have this in your closet, then you're very lucky that you bought it in the first place (duuh, it's an essential) because mixing and matching will be a no-brainier for you also with the blue jeans. Just remember to keep it dated by choosing a color that will still look better and on trend after 2 or 3 years also make sure the fit of your jeans flatters your body and legs.
2. The basic button down shirts
Few months ago, I decluttered my wardrobe. Gave all my printed button downs to my friends and classmates and keep the black, white and grey button down shirts. In this case, yes! fit and tailoring matters the most.
3.Shirts
Just make sure you're not wearing a very tacky shirt. Here's some shirts that I highly recommend.
4. Sneakers
Sneakers are very important to me. I prefer the chunky ones, high tops and the athlete type of sneakers (sorry don't know the proper term hehe, is it trainers? LOL).
5. Leather jacket
I will not trade my favorite leather jacket, ever!. I believe layering an outfit with a leather jacket can umf! your look instantly. I know that trick is very common but it works!. Trust me, you'll instantly feel badass when wearing a leather jacket. Just make sure that it's dated, not the type of leather jacket that you saw on Michael Jackson's music videos back in the day.
6. Sweatshirts
Trust me! I think sweatshirts are still cool, it's here to stay and people seems can't get enough of it.
7. Boots
not the cowboy boots or the boots that many style bloggers abused. I prefer the Margiela and Rick Owens type of boots .
8. Sunnies
essential! a must have!.