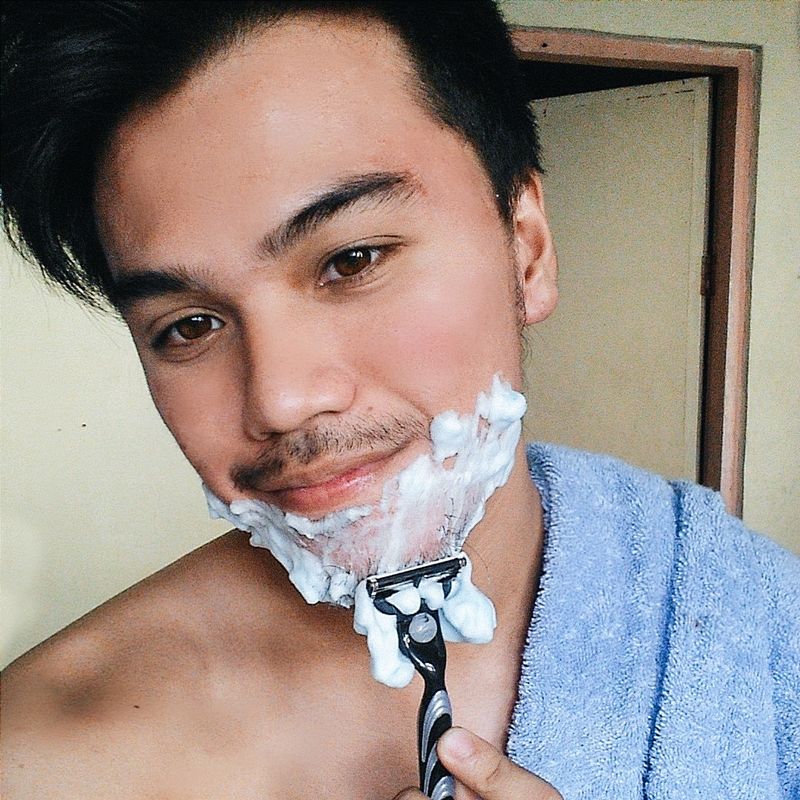 I'm extremely picky when it comes to grooming products. I always make sure that the products that I'll put on my face will not cause any irritation and harmful side effects on my skin, especially if you have a really sensitive skin just like mine. Reading the ingredients of the products and reviews of people about it before buying or applying it on your face is a must. Since our today's topic is all about men's grooming, I know a solution that we guys always encounter every time we shave our facial hair. Studies conducted with 7000 men from all around the world showed how improper shaving with a disposable razor causes redness, and subsequently, reduced confidence. That's why I'm not a big fan of using disposable razors, I have two important tools that I use when I'm shaving, First is the mustache scissors, If I want to just trim it down and the second one is the Gillette Mach3 for that easy and on the go shaving. It only took me 2 minutes to completely shave off my facial hair plus it doesn't cause any irritation, redness and razor bumps.
Gillette MACH3 Turbo has advanced triple-blade technology and an enhanced Lubrastrip with Aloe Vera.The Enhanced Lubrastrip has an improved formula that slowly releases lubricants during the shave for a longer lasting glide.The nano thin blades are individually spring-mounted to automatically adjust and respond to the curves of the face and skin; these are also aligned progressively to provide an efficient shave by allowing the blades to shave gradually closer in a single stroke. Expanded Micro fins gently set up the hair so that the three blades can shave more effectively with incredible comfort. The Front Pivoting Head, meanwhile, improves the overall performance, closeness and smoothness of the shave.All these ensure the closest shave possible with lesser chances for irritation and redness
Here are some very important tips on how can you avoid those nasty razor bumps and redness when you're shaving.
1. Cleanse your skin to get rid of any excess dirt and oil on your face.
2. Use shaving cream for an incredibly smooth shave. If you have a very sensitive skin, it's better to buy shaving creams for sensitive skin. Just like this Gillette gel with aloe vera.
3. Use a quality razor and change the blades. Always use a good quality sharp razor blade. Be sure the blade is sharp. You're not just cutting off hair, you're also scraping off up to two layers of surface skin when you shave.
4. Shave in the direction of the beard growth. Start with the sides, then the moustache area and last the chin. The chin hairs are the toughest, so this allows them the most time to soften under the shave cream.
5. Cleanse and Soothe after shaving. Rinse with the coolest water that is comfortable and pat dry with a clean towel. (Don't rub! Just pat)
6. Top it off with an after shave lotion or Balm
You can achieve a smooth and stress free shaving by following these steps and by using the new Gillette Mach3 Turbo. The new Gillette Mach 3 Turbo delivers an exceptionally closer shave with less irritation, even on the most sensitive areas of the face - including the neck and jaw line and contour of the face. The technology reducesirritation and guarantees up to zero redness, thereby making the Filipino more at ease, and capable to tackle whatever challenge come their way.
o It has a thinner steel with a diamond-like coating to ensure a comfortable shave.
o Thenano thinblades are progressively aligned to extend gradually closer to the hair, resulting in a close shave in a single stroke. Lesser strokes ensure less irritation on your skin.
o The blades are individually spring mountedto automatically adjust to different levels of shaving pressure and skin types. The Gillette Mach 3 does more of the work on your behalf so you are able to have an easier but more comprehensive shave.
o A front-pivoting head ensures the razor moves fluidly over the face so you don't have to worry about maneuvering the blade on your face for a close shave.
o All of these functions helpreduce the pressure of the blades on the skin;guaranteeinga close and more comfortable shave with zero redness.